One Piece Off Black 1B# Clip in Human Hair Extensions 40g - 100g
One Piece Off Black 1B# Clip in Human Hair Extensions 40g - 100g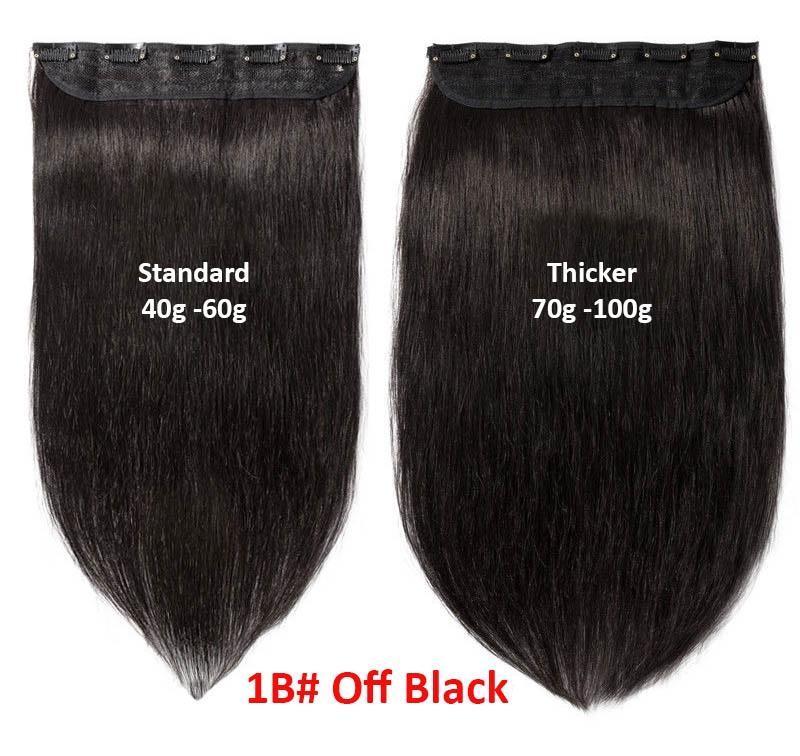 Roll over the image to zoom in
Forever Young
Brand: Forever Young
Type: 100% Human Hair
Style: Straight
Colour: Off Black (#1B)
Length: Available in 14", 16", 18", 20", 22", 24"
Amount: 1 x 10" piece (5 clips)
Weight: 40g - 100g
One piece clip in hair extensions allow you to add longer, fuller hair in just a couple of minutes. Add to short hair for instant length, or add volume and thickness to longer hair. These real human hair extensions blend with your natural hair and can be styled or curled to suit your look.
This is the fastest way to extend your hair. A single section usually applied to the back of the head using the five attached clips. You can choose different lengths and weights from the drop down depending on how long and thick you would like the hair piece to be.
Directions:
Step 1. Ensure your hair is styled straight to achieve a sleek appearance.
Step 2. Divide your hair into two sections. Use your tail comb to make a horizontal line from your right temple to your left temple, sectioning off the top part of your hair.
Step 3. Open the clips on your extensions. Align the tops of the hair piece with the horizontal part you have made and gently push down to snap each clip into place.
Step 4. Work from one side of the temple to the next by snapping each clip securely into position and apply close to the root. Now release the top section of your hair and style your extensions as desired.
Code:
Clipin_OnePiece_QA_12"_40g_1B#