Jet Black 1# Weft Remy Hair Extensions
Jet Black 1# Weft Remy Hair Extensions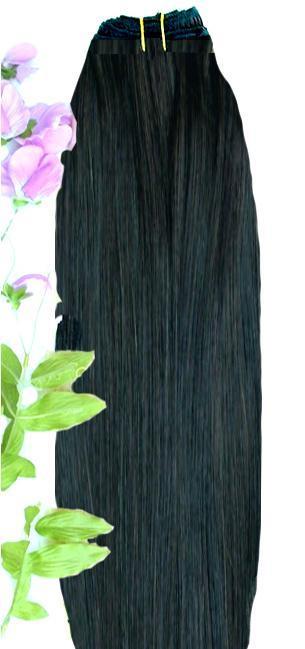 Roll over the image to zoom in
Forever Young
Brand: Forever Young
Type: 100% Human Hair
Style: Straight
Colour: Jet Black (#1)
Length: Available in 12", 14", 16", 18", 20", 22", 24", 26"
Amount: 1 Hair Piece
Weight: 12" (100g), 14" (100g), 16" (100g), 18" (110g), 20" (120g), 22" (130g), 24" (140g), 26" (150g)
In jet black and designed for weft application, this deluxe full head set of human hair extensions is perfect for long lasting volume and length.
Why Choose Forever Young Hair Extensions? 
Forever Young Hair Extensions are a leading UK and European Brand created from the finest 100% Grade A Human Hair ensuring a high standard of density and tangle free hair.
Application and care
It is recommended that you seek professional advice for the application of weft hair extensions. The extensions can either be sewn or glued into the roots of the natural hair for a longer lasting effect. How long the extensions will last depends on the demand of the hair and how they are cared for.
Forever Young Human Hair Extensions can be washed, cut, heat and dye treated. Wash with normal shampoo in luke warm water, towel dry gently and leave to dry naturally if possible.