Deluxe Ash Blonde Full Head Virgin Hair Clip In Hair Extensions (150g - 160g)
Deluxe Ash Blonde Full Head Virgin Hair Clip In Hair Extensions (150g - 160g)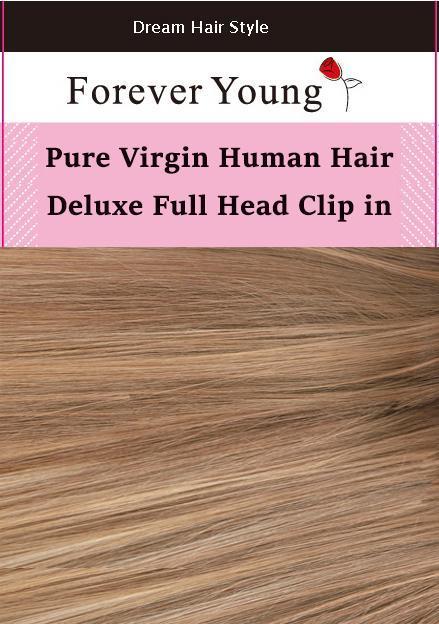 Roll over the image to zoom in
Forever Young
Brand: Forever Young
Type: 100% Virgin Human Hair
Style: Straight
Colour: Ash Blonde (#16)
Length: Available in 16", 18", 21"
Amount: 1 x 8" wide piece (4 clips)
2 x 6" wide piece (3 clips)
2 x 4" wide piece (2 clips)
1 x 3" wide piece (2 clips)
2 x 2" wide piece (1 clip)
Weight: 16" (150g), 18" (150g), 21" (160g)
In a Ash Blonde, this full head set of Deluxe Virgin human hair extensions is perfect for adding extra volume and length to your natural hair.

Why Choose Forever Young Hair Extensions?
Forever Young Hair Extensions are a leading UK and European Brand created from the finest 100% Grade AAAA Virgin Human Hair ensuring a high standard of density and tangle free hair.
What is Virgin Human Hair?
Virgin human hair is not processed or chemically treated in any way. The hair has never been coloured, bleached or permed. It is 100% natural, so there is no damage to the cuticles which protect the hair from the elements. This pure form gives the hair a healthy, vibrant look you can see and feel. Our hair is hand selected for quality assurance. Virgin hair extensions are naturally soft and beautiful. Great care is taken so that all the cuticles run in the same direction to prevent tangling. The end result is soft, beautiful, long lasting hair with lots of body. You will be 100% satisfied with our quality of hair.
Application and care
1) Remove the hair extensions carefully to avoid making the hair static.
2) Seperate all hair pieces as necessary before application.
3) Part natural a necessary for application.
4) Choosing the first hair piece, open clip attached carefully and secure onto natural hair.
5) Continue until desired look is achieved.
Forever Young Human Hair Extensions are convenient to use and can be washed, cut, heat and dye treated. Wash with normal shampoo in luke warm water, towel dry gently and leave to dry naturally. Reducing the frequency of washing and styling will prolong the life of you extensions.
Code:
Deluxe_VFA_150g_16#_16"