Deep Wine Fusion Bond Nail Tip Remy Hair Extensions
Deep Wine Fusion Bond Nail Tip Remy Hair Extensions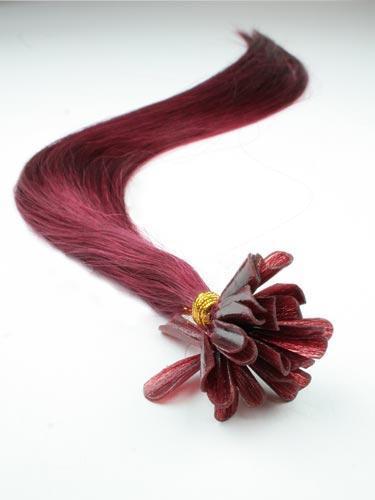 Roll over the image to zoom in
Forever Young
Brand: Forever Young
Type: 100% Human Hair
Style: Straight
Colour: Deep Wine (#99J)
Length: Available in 18" & 20"
Amount: 25 bonds per pack
Weight: 15 grams
In deep wine, these fusion bond, nail tip human hair extensions are your answer to extra, long lasting volume and length.
Why Choose Forever Young Hair Extensions?
Forever Young Hair Extensions are a leading UK and European Brand created from the finest 100% Grade A Human Hair ensuring a high standard of density and tangle free hair. They are convenient to use and can be washed, cut, heat and dye treated.
Application and care
Fusion Bond Hair Extensions are applied to the root of the natural hair by bonding the agent already visible on the tips of the hair extensions to the root of your natural hair using a heat appliance. It would be advisable that you seek professional advice for this application to ensure a secure, effortless finish.
1) Remove the hair extensions carefully to avoid making the hair static.
2) Separate all hair pieces as necessary before application.
3) Part natural hair as necessary for application.
4) Choosing the first hair piece, position the tip of the hair extension (where the hard, bonding agent is visible) to the root of the hair.
5) Using a suitable heat appliance (preferable pre bonding tool or slim line straighteners), apply heat to the hair piece and natural hair together and leave for approximately one minute to allow bonding.
6) Gently remove the heat appliance from the hair to check the bonding agent has dissolved, if not apply more heat.
7) Leave hair to cool and allow the bonding agent to dry completely before applying the next hair piece.
Wash with normal shampoo in luke warm water, towel dry gently and leave to dry naturally. Reducing the frequency of washing and styling will prolong the life of you extensions.
Code:
PreBond_25piece_Burgundy_16"